The Telegraph
The Big Question: There's an anti-intellectualism in Britain
The first of the Big Question debates at the Royal Opera House prompted composer Mark-Anthony Turnage to say there's anti-intellectualism in Britain.
Classical Music Magazine
ABRSM's new chief executive vows to improve infrastructure
The new chief executive of ABRSM says he will continue the work of his predecessor in improving the organisation's infrastructure, following last year's 'major issues' with exams.
BBC Music Magazine
Join us for this year's BBC Music Magazine Awards
Champagne, canapés and live music with the classical music world
Classic FM
Valentina Lisitsa plays for stranded passengers
The YouTube sensation surprised passengers stranded at London's St Pancras International Station, performing an impromptu concert after her Eurostar train was cancelled.
Vasily Petrenko extends RLPO contract
Chief conductor of the Royal Liverpool Philharmonic Orchestra Vasily Petrenko has extended his contract for the foreseeable future, with a three-year notice period.
Classical Source
Top of The Baroque For Red Nose Day
This week on BBC Radio 3, presenters Suzy Klein, Sara Mohr-Pietsch, Jez Nelson and Tom Service will embark on a battle of classical prowess for Comic Relief, competing against each other to be crowned Top of the Baroque.
Marketplace Life (via Arts Journal)
Can I see your violin's paperwork?
Imagine you're traveling abroad. The to-do list can be long. Book your flight, pack a toothbrush — and if you're a musician like John Thomas, you may soon need a passport for your instrument.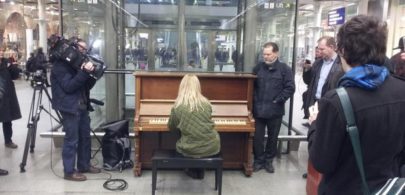 Classic FM