Limelight
Love Song Dedications for Valentine's Day: 10 Classical Muses
A Valentine's Day tribute to the women (and men) who inspired the great composers.
The Times
French baroque opera: a hard game for hard men
Extortion, beatings, sexual violence, musical fatwas and calls for composers to be burnt at the stake: the opera stage was a dangerous place in 17th-century France.
Gramophone
Gustavo Dudamel and LA Philharmonic take up residency at London's Barbican
March events include three concerts of 20th and 21st century music and an international symposium focusing on education
Classic FM
Watch: Pink Floyd's 'Wish You Were Here' meets Liszt
Watch our incredible performance video of AyseDeniz Gokcin performing Pink Floyd's 'Wish You Were Here' and 'Another Brick In The Wall' in the style of Liszt at Steinway Hall, and a fascinating interview with Classic FM's John Brunning.
Steve Reich and Max Richter talk Radiohead and Radio Rewrite
Musical masterminds Steve Reich and Max Richter's latest projects have seen them both 're-imagine' other people's work – Vivaldi for Richter, and Radiohead for Reich. The two composers explore what it means to take inspiration from a wide range of musical styles, from rock to Baroque.
Classical Source
The Royal Opera House Heads To Brazil
The Royal Opera House is expanding its international links, creating a long term education, audience engagement and skills programme in Rio de Janeiro designed to strengthen and develop links between the ROH, Theatro Municipal and the arts education communities in both countries.
The Wagnerian
Leipzig Celebrates its Famous Son Richard Wagner in 2013
Leipzig is celebrating the 200th anniversary of the birth of Richard Wagner, who was born here on 22 May 1813.
Music Industry News Network
The Music Sales Group Launches Its New Digital Education Division
The Music Sales Group today announced the launch of its new digital education division, MusicFirst™, offering teachers and students easy-to-use, affordable, cloud-based music education services and related activities.
Music Week
Sarah Brightman signs licensing deal with Universal Music Germany 
Soprano singer Sarah Brightman has signed a licensing deal with Universal Music Germany's KOCH/Universal imprint.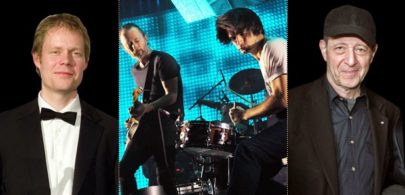 Classic FM