The Guardian
The Rest is Noise: here comes the 20th century
Gillian Moore, head of classical music at London's Southbank Centre, introduces the first instalment of the year-long festival – and the work of Strauss, Mahler and Schoenberg
YouTube owner Google poised to take stake in Vevo
Deal thought to be worth about £42m for stake of close to 10% in music video website founded by Universal and Sony
The Economist
The Q&A: Alex Ross: Make some noise
Some sage once quipped that writing about music is about as edifying—and evocative—as dancing about architecture. Certainly most music criticism has a lifeless quality, packed with adjectives yet tuneless on the page.
Classic FM
Antonio Pappano receives Distinguished Musician Award
Previous recipients of the award, presented by the Incorporated Society of Musicians, include Pierre Boulez, Jacqueline du Pré, and Simon Rattle.
The Strad
Violinist crowdfunds chin rest 
Project to manufacture multi-adjustable model raises nearly $25,000 on Kickstarter
BBC News
Frank Zappa score joins The Rest is Noise classical festival 
A controversial orchestral film score by music legend Frank Zappa is to have its UK premiere as part of a major celebration of modern classical music.
Music Week
Sweden: Record sales rise again in 2012
Overall recorded music sales in Sweden in 2012 showed an increase of 14%, with 90% of all digital income coming from streaming services
Elizabeth Sobol appointed President and CEO of Decca USA
Universal Music Group International have appointed Elizabeth Sobol as president and CEO of the Decca Label Group, USA.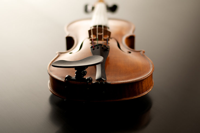 The Strad