The Guardian
Iraq war 10 years on: 'One problem has been the withdrawal of the educated elite. So many have emigrated'
Composer Husam Aldeen al-Ansari explains how Iraq's national orchestra has struggled to survive amid religious disapproval
Conservatives seek eleventh-hour press regulation deal
Newspaper groups including owners of Sun and Mail threaten boycott of regulator if plan proposed by Labour agreed to
The Telegraph
Simone Dinnerstein and Tift Merritt cross musical boundaries
Classical pianist Simone Dinnerstein and country-folk singer Tift Merritt have collaborated on a joint album called Night — and it's a triumph of creative risk.
The Independent
The birth of a new opera: How to keep the whole family in a fantasy world
In his latest dispatch, Michael Volpe ponders the harshest critics – children
New York Times
San Francisco Symphony's East Coast Tour Is Canceled as Labor Talks Break Down
The San Francisco Symphony has announced that negotiations over a new contract with the musicians have broken down with the players' rejection of a federal mediator's proposal for a cooling-off period.
Classic FM
Experts confirm Titanic violin is genuine
The instrument played as the ship went down is confirmed to have belonged to Titanic bandmaster Wallace Hartley after extensive testing.
NPR Deceptive Cadence
How Does A Jewish Artist Tell The Ultimate Christian Story?
Salsa rhythms, Brazilian martial arts and a Jewish prayer of mourning: It's not exactly what you would expect from a classical composer's setting of the Gospel according to St. Mark.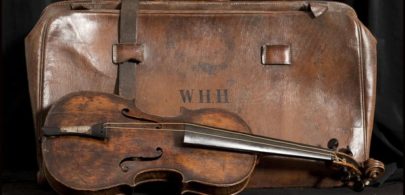 Classic FM