Gramophone
'Loving Miss Hatto': Victoria Wood on her new film
The film's author discusses classical music's great fraud
Classic FM
André Rieu tour beats Lopez, Bieber sales figures
André Rieu's European tour has been named as the second most popular tour in the world this week, beating artists like Jennifer Lopez and Justin Bieber.
From 3pm-5pm on 29 & 30 December, Welsh tenor Wynne Evans will present two special programmes dedicated to the world of opera.
The Guardian
La Scala cancels opening night as performers walk out
Milan opera house's ballet dancers and chorus members take action in 'surreal' row over bonus demands
Classical Music Magazine
Creative Scotland ends year mired in uncertainty
As the Year of Creative Scotland rumbles towards its end, the problems that have dogged the Scottish arts funding body for several months persist, as several recent developments have shown.
New York Times
Improvisation, With Prompting to Set the Mood
On a recent rainy afternoon, I was sitting at an old-fashioned desk in a bare concrete loft in Greenpoint, Brooklyn, listening intently to the members of So Percussion, joined by Grey McMurray on electric guitar, rehearse a composition called "Toothbrush."
Slipped Disc
15 minutes into Nutcracker, the conductor fell ill. Who stepped in?
Fifteen minutes into a performance of Tchaikovsky's Nutcracker, the conductor was too unwell to continue.
Just in: Shakeout at top German agency
Konzertdirektion Schmid is losing v-p Burkhard Glashoff, who looks after orchestral touring. Cornelia Schmid will add those responsibilities to her already groaning pile of emails.
The Telegraph
A seasonal hit can really lay a musician low
Howard Blake has written an oratorio and numerous concertos,but you don't hear them on Radio 3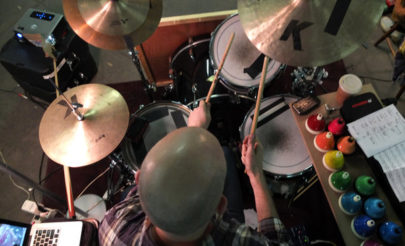 New York Times