Classic FM
Daniel Hope on the music of the spheres
Classic FM's Tim Lihoreau chats to violinist Daniel Hope about his new album, Spheres, and even gets his violin out.
LA Times
Gustavo Dudamel was detained by Israeli authorities, reports say
Classical conductors spend a lot of time on airplanes flying from one job to the next and are thus used to the frustrations that come with modern-day air travel.
Gramophone
Edward Gardner to head the Bergen Philharmonic
Chandos will record the new partnership
Classical Source
BBC Concert Orchestra Teams Up With Singing For The Brain To Bring Music To People Living With Dementia
BBC Concert Orchestra is joining forces with five of the Alzheimer's Society's regional 'Singing for the Brain™' groups in music-making aimed to engage with people dealing with the impact of dementia.
WFAE (via Musical Chairs)
Anonymous Donors Give Charlotte Symphony $2 Million
A group of anonymous donors is giving the Charlotte Symphony $2 million. The donors' contribution could increase if some financial goals are met.
Music Industry News
Something new is bubbling up from the depths of the Internet. Music critics are calling it, "Something to do."
Music Week
Gatfield echoes call for Government tax breaks for music A&R
Sony Music UK CEO and chairman Nick Gatfield has echoed calls for the Government to offer more support to the creative industries, urging tax breaks for music A&R specifically.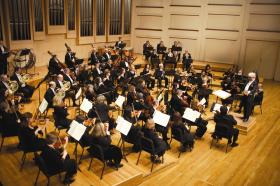 WFAE (via Musical Chairs)