Classical News
In our news today, the Royal Opera House is sued by a viola player for ruining his career, Debbie Wiseman to write the music for the Queen's 90th birthday & the shortlists have been announced for the RPS Music Awards.
BBC News
Musician sues Royal Opera House over ruined hearing
A renowned viola player is suing the Royal Opera House for ruining his hearing and his career during rehearsals of Wagner's Die Walkure.
Classic FM
Music Week
Eventbrite launches free public events drive
Self-service ticketing platform Eventbrite is running a touring exhibition of free British and Irish events that have taken place over the past 50 years.
The Telegraph
Stars gather for David Bowie tribute concert in New York
Stars from the world of rock and pop gathered at Carnegie Hall in New York to pay tribute to David Bowie who died in January, aged 69.
New York Times
Apollo Theater and Opera Philadelphia to continue partnership
Their first collaboration, the New York premiere of the opera"Charlie Parker's Yardbird," will not open until Friday, but the Apollo Theater and Opera Philadelphia are already making plans to get the band back together.
Classicalite
New York Philharmonic Archives Highlighted for 175th Anniversary
The New York Philharmonic Symphony Orchestra will celebrate its 175th anniversary next season with a nostalgic 2016-17 itinerary. And in observance of nearly two centuries of music, the Philharmonic is illuminating its extensive digital archive library.
Classicalite
Andreas Scholl, German 'Spectre' singer, brings baroque Opera into focus
German countertenor Andreas Scholl is spearheading a rejuvenation of baroque opera with his distinct, unadulterated voice. The vocalist achieved mainstream recognition last year when his version of Vivaldi's "Cum Dederit," backed by the Australian Brandenburg Orchestra, appeared in the James Bond film, Spectre.
Pizzicato
Final preparations for the ICMA Award Ceremony and Gala Concert 2016
The International Classical Music Awards (ICMA) organize their Award Ceremony and Gala Concert today, April 1st, at the Kursaal in San Sebastian, hosted by the Euskadi Symphony Orchestra conducted by Jun Märkl and San Sebastian 2016, Cultural capital of Europe.
Pizzicato
Nine soloists at the ICMA-Gala in San Sebastian
The Gala concert of the International Music Awards 2016 takes place today, 01 April, at the Kursaal in San Sebastian. The event is hosted by the Euskadi Orchestra (Basque National Orchestra) and Donostia 2016.
Klassik.com
Konzertante Rheingold-Aufführung in der Berliner Philharmonie massiv gestört
Bei einer konzertanten Aufführung von Richard Wagners Musikdrama "Das Rheingold" ist es in der Berliner Philharmonie am vergangenen Wochenende zu einem Eklat gekommen. Lokalen Medienberichten zufolge wurde das ausverkaufte Konzert mit der Berliner Landeskapelle unter Leitung von Horst Bergfried mehrfach durch Zwischenrufe gestört und musste schließlich aufgrund von Tumulten unterbrochen werden.
Klassik.com
Bach-Medaille für Bassist Peter Kooij
Die Bach-Medaille der Stadt Leipzig geht in diesem Jahr an den niederländischen Bassisten Peter Kooij.
Zeit Online
Artemis-Quartett: Häutungen eines Igels
Im vergangenen Sommer nahm sich der Bratscher des berühmten Artemis Quartetts das Leben. Jetzt präsentieren sich die Musiker erstmals in neuer Besetzung.
Twitter
Classic FM @ClassicFM: We've got a stunning new recording that we're featuring throughout the day – and it's from our very own @realaled! http://classfm.co/OneVoice 
Caterina Grewe @Caterina_Mai: What an exciting day! I just received the first copies of my new CD! #Schumann #debutalbum
Top Classical News @topcmnews: Journey, a 70th birthday retrospective – Trevor Pinnock looks back with infectious enthusiasm http://bit.ly/1VedLIr  #ClassicalMusic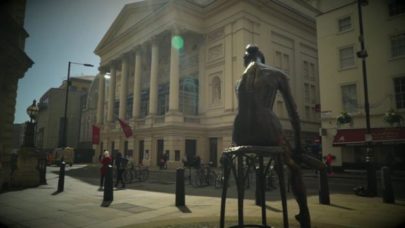 Royal Opera House. Photograph: BBC News