Gramophone
Universal secures European go ahead for EMI takeover – but must divest labels including EMI Classics
$1.9bn takeover approved by European Commission competition authorities
Classic FM
Classic FM explores The Sage Gateshead "from top to bottom"
Classic FM's 20th birthday celebrations continued at The Sage Gateshead with a concert from the Northern Sinfonia, conducted by John Wilson and a live broadcast that literally saw Classic FM presenters explore the entire Sir Norman Foster building.
Viktoria Mullova on her escape from Russia and her life afterwards
We spoke to violinist Viktoria Mullova about her new book, which details her difficult early life in Russia, her escape from the KGB and settling outside the Soviet Union.
The Observer
Julian Lloyd Webber joins pleas for music to survive Gove's exam shake-up
Leading musicians warns new proposals mean many children will 'never touch an instrument'
The Scotland Blog, The Guardian
Big Noise: the musical, social revolution jumps from Raploch to Glasgow
This week councillors in Glasgow will support the next flowering of a remarkable musical movement which has transformed children's lives in Stirling, writes George Anderson, of Sistema Scotland
The Independent
Julietta, Coliseum, London
Outsider Music Night, Peckham car park, London
Martinu's surreal 1938 opera plays tricks with the memory and shows ENO at its strongest
Slipped Disc, Arts Journal
Who's going to lose in Chicago?
Our prediction that six US orchestras will be unable to open their 2012-13 season is starting to look over-cautious. Musicians of the Chicago Symphony Orchestra downed instruments this weekend in the course of negiotiations for a new, three-year contract.
Classical UK
Three Early songs by Eric Coates to receive World Premiere
Manuscripts of the songs have been donated to the Eric Coates Society, who will stage the performance.
BBC News (Found on Arts Journal)
Sales boost for music featured in Olympic ceremonies
The music featured in the opening and closing ceremonies of the London 2012 Olympics has sparked a big surge in sales.
News.com.au (Found on Musical Chairs)
Philharmonic hits high note with classic ringtones
THE Brussels Philharmonic Orchestra has hit a high note by offering free ringtones from its classical repertoire that were downloaded 10,000 times in three days in what it terms an "unexpected success."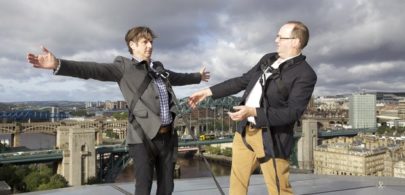 Classic FM