The Guardian
It's a man's world… but why is sexism ingrained in the arts?
Once again, the top jobs at two major British cultural institutions, the BBC and the Royal Opera House, have gone to male appointees
The Telegraph
Poulenc: a composer who deserves greater recognition
Fifty years after his death, Poulenc deserves a better anniversary showing, says Ivan Hewett
The New York Times
A Bridge for Two Bicentenary Rivals
Wagner and Verdi are destined to be linked forever, however awkwardly, since they were both born in 1813: Wagner in Leipzig, Germany, on May 22; Verdi in little Roncole, Italy, in the Duchy of Parma, on Oct. 9 or 10.
Gramophone
UNESCO names Tan Dun a Goodwill Ambassador
Chinese composer recognised for his efforts to promote intercultural dialogue through music
Deceptive Cadence

Marches Madness: Mahler's Twisted Nursery Rhyme
It's Marches Madness! Throughout this month, we're posting some of our favorite marches — from the concert hall, opera stage and parade ground.
New Scientist
Electronic violin turns laser signals into music
THE sound of a violin bow across strings can be exquisite. But bowing well is hard to master. Now that smooth grace is encapsulated in a new kind of electronic instrument.
Music Industry News Network
Kelstone, A New Musical Instrument
The essence of the Kelstone is that the hands lie on top of the strings, giving the player enormous new possibilities for harmony and expression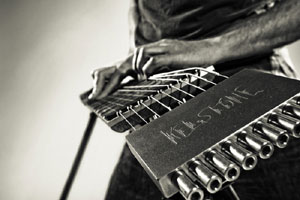 Music Industry News Network