Gramophone
Aldeburgh Music announces details of year-long Britten centenary celebrations
Special events pay tribute to the British composer and Aldeburgh Music founder
The Guardian
Jocelyn Pook: inspired by mental illness
'Working on this piece I realised that the notion of hearing voices naturally lends itself to musical ideas and exploration'
Daily Mail
'There's pressure to show more flesh': Soprano Laura Wright says classical music world wants to add wow factor by using risque outfits
Her stunning voice saw her hand-picked by The Queen to record a song.
The Telegraph
Pippa Middleton, the BBC and Lance Armstrong head up list of this year's opera sinners
BBC executives, Pippa Middleton, and Sally Bercow are to be named as the sinners of the year the public would be glad to see the back of in the English National Opera's production of the Mikado.
Carmen: It ain't over till the nude lady sings
A lusty new production of 'Carmen' by Calixto Bieito embraces the growing trend for red-hot opera
Limelight Magazine
Peter Maxwell Davies talks "spooky" opera, Australian wine
Sydney Chamber Opera stages haunting work The Lighthouse by Master of the Queen's Music.
Classic FM

Tallis Scholars announce 40th anniversary world tour
John Brunning talked Whitacre, Tallis, and 50 Shades of Grey with Tallis Scholars director Peter Phillips as the renowned choir prepare for their 40th anniversary world tour.
Alaska Public (found on Musical Chairs)
Inmate Orchestra Gets Ready for Concert
The all-female Hiland Mountain Orchestra is rehearsing for its annual concert in December.  The string ensemble has gained national recognition for being the first women's prison inmate orchestra in the nation.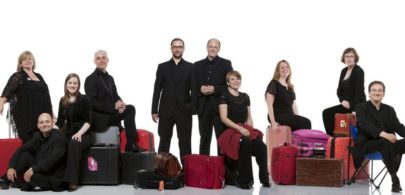 Classic FM