Gramophone
Borletti-Buitoni Trust celebrates 10th anniversary in May 2013
Weekend of special events to feature the BBT's most successful award winners
Classic FM
Final Fantasy Barbican concert with LSO announced
Nobuo Uematsu's Final Fantasy music is to be played live by the London Symphony Orchestra at The Barbican on 30th May 2013, it has been announced.
André Rieu performs at Champions League football match
André Rieu performed in front of a packed stadium of football fans last week, treating the masses to a waltz.
Deceptive Cadence
Michel Van Der Aa Wins The Grawemeyer Award For Music
Up-close, a multi-disciplinary work by Dutch composer and director Michel van der Aa that combines a piercing cello concerto with an enigmatic silent film, has won the prestigious Grawemeyer Award for Music Composition.
Slipped Disc
UK musicians face 12.5% tax hit if they lose this case
The Court of Appeal is to hear a test case in December asking for a reversal of a recent judgement that would add 12.5 percent to a freelance player's National Insurance costs.
We have been apprised of the death today of Simeon ten Holt, one of the most most prolific Dutch modernists and hypnotic post-modernists.
The Telegraph
The Opera Novice: Mozart's The Marriage of Figaro
The Marriage of Figaro is so engrossing you almost forget you're watching an opera, says Sameer Rahim.
China Daily
Opera singing mayor surprises residents
Mayor Chen Jianhua gave residents a happy surprise when he sang Yueju, or Cantonese opera, in the Guangdong provincial capital on Monday night.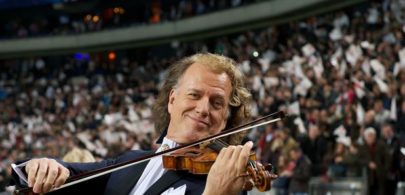 Classic FM