Gramophone
Southbank Centre launches 'The Rest Is Noise: the Soundtrack of the 20th Century'
Yearlong festival of 250 events dedicated to 20th century culture and music
Classic FM
Military Wives for Christmas No. 1 2012?
After securing the coveted Christmas No. 1 title last year, the record-breaking Military Wives Choir may scoop the coveted top spot for a second year in a row.
Eric Whitacre calls for Christmas poems
Aspiring poets and prose writers will have their work read out at the composer's Christmas concert in Union Chapel in London.
RNCM James Mottram piano comp begins
The Royal Northern College of Music's biennial piano competition's first round took place last night, with the winners of the Junior Category going through to the next round.
Slipped Disc
The vanishing boys of Wuppertal have gone viral
The extraordinary video made by the Wuppertal Boys Choir in aid of the International Childrens Fund has received almost 700,000 hits in a week and is rising at a rate of 100,000 a day.
Deceptive Cadence, NPR
Do Orchestras Really Need Conductors?
Have you ever wondered whether music conductors actually influence their orchestras?
The Strad
Forty scores to be returned to UK string quartet
New Music Box
While regrettably there are fewer fans of contemporary music than sports of any kind in this country or probably anywhere else in the world, the Grawemeyer has also yet to be as widely an acknowledged accolade–even among new music aficionados–as other honors like the annual Pulitzer Prize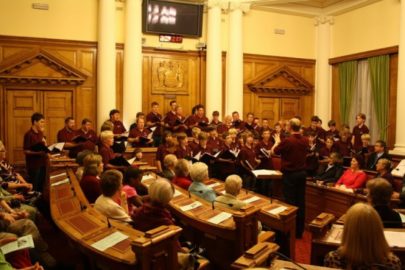 Slipped Disc