Gramophone
Gramophone Awards 2012 announced!
Record of the Year for Vox Luminis; Calleja is Artist of the Year
Rhinegold
Buyers circle EMI Classics and Virgin Classics after EU judgment
Prospective buyers are eyeing chunks of EMI's recording operations – including its classical divisions – for the third time in five years after US and European regulators cleared the $1.9bn (£1.2bn) sale of the bulk of the British company to Universal Music Group.
Yahoo News (found on Arts Journal)
Blend of bikinis and Chinese opera stirs debate
BEIJING (AP) — A stage performance by bikini-clad women wearing headpieces styled after traditional Peking Opera has sparked debate in China after photos were made public this week, highlighting divided views on how to preserve the country's traditions.
Deceptive Cadence, NPR
Klaus Heymann: On 25 Years Of Naxos — And Changing The Classical Music Business
Twenty-five years ago, no one — and I mean no one — would have predicted that a little budget label out of Hong Kong would totally upend the classical music industry.
Slipped Disc 
Soprano crushed in stage accident is riding high for a UK award
Five months ago, Annemarie Kremer was lying in an Austrian hospital bed wondering whether she would ever mount a stage again.
Exclusive: A conductor takes stock of orchestral wages
The US-born conductor John Axelrod has just brought out a book in German on the state of orchestral culture. It's a brave book, and a timely one.
Financial Times
When the Mountain Changed its Clothing, Bochum Jahrhunderthalle
Heiner Goebbels's new work weaves surreal stories, using a 40-strong girls' choir from Slovenia
The News
Classical singer mesmerises music aficionados at Lok Virsa
A large number of people from different walks of life enjoyed a live performance by renowned classical singer, Rafaqat Ali Khan, from famous 'Sham Chaurasi Gharana' at the Lok Virsa Media Studios.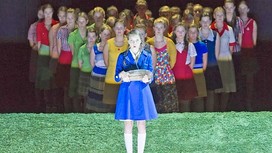 Financial Times