LA Times
L.A. Phil's Lionel Bringuier lands conducting gig in Zurich
Lionel Bringuier, resident conductor with the Los Angeles Philharmonic, has been made the chief conductor and music director of Switzerland's Zurich Tonhalle. His post will begin with the 2014-15 season and will run for four years.
Gramophone
Michael Nyman complete chamber works to be released – hear an excerpt from the first recording!
First release includes two world premiere recordings of piano trios
Classic FM
Plácido Domingo announces new pop album featuring Groban, Boyle, Jenkins
Legendary tenor Plácido Domingo has announced details of his new album, due for UK release on December 3rd.
Child prodigy surprises shoppers with Liszt
Pianos have popped up all over Cambridge for members of the public to play – and an 11-year-old boy is impressing the crowds with his interpretations of virtuosic pieces.
Video game music hits the UK: Nobuo Uematsu and Arnie Roth interviewed
Classic FM spoke to Final Fantasy composer Nobuo Uematsu and conductor Arnie Roth before their 'Distant Worlds' concert.
Slipped Disc
Breaking: Two classical agencies are expelled by professional body
The International Artist Managers Association has taken the unusual step of expelling two of its members, both based in Vienna.
Sad news from Russia: Lyubimov is in a coma
The legendary director Yuri Lyubimov turned 95 a month ago and was working on a new Bolshoi production of Prince Igor.
The Independent
Wikipedia-inspired opera containing graphic sexual description to make London debut
A controversial new opera featuring graphic descriptions of sex will make its debut in two weeks' time at a London church venue.
The Strad
Jack Liebeck's surgeon opens clinic
Doctor who treated violinist leads team of upper-limb specialists at new musicians' clinic
Limelight Magazine
"I got into a fight with John Cage," says Bang On A Can founder
New York composer David Lang talks punch-ups and prepared pianos.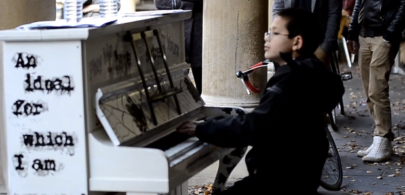 Classic FM