Gramophone
Alexandre Bloch wins 2012 Donatella Flick-LSO Conducting Competition
Young French conductor receives £15,000 and a one-year assistant conductor position with the LSO
Classic FM
Bryn Terfel to perform with Melbourne Symphony Orchestra
Welsh singer Bryn Terfel will perform with the Melbourne Symphony Orchestra next year as part of a gala concert.
Peter Maxwell Davies prepares musical retort to Olympics
The Master of the Queen's Music, Sir Peter Maxwell Davies, has disclosed details of his new work, which is a reaction to the "jingoistic" tone of the Olympic Games.
Rhinegold
CM to host online debate with Artistworks Classical Campus
Classical Music is partnering with US education company Artistworks for the launch of the Artistworks Classical Campus, and the magazine's deputy editor, Kimon Daltas, will be hosting an online debate on classical music education and technology this evening at 9pm UK time.
The Independent
Does anyone like modern classical music?
There is to be a year-long festival of contemporary music at London's Southbank Centre, but will the public go?
The New Yorker
It was only a matter of time: Richard Wagner, the most volcanically controversial figure in the history of music, has inserted himself into the 2012 Presidential election.
Minnesota Public Radio (found on All Top)
Locked-out Minn Orch musicians take cause to streets
The Minnesota Orchestra has cancelled all its concerts through Thanksgiving, after management locked out musicians as their contract expired and the two sides could not agree on a new one.
The Strad
Female maker takes Triennale gold
Ulrike Dederer viola wins in a first for Cremona competition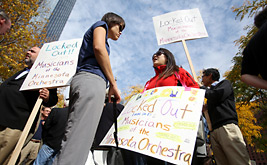 Minnesota Public Radio