Telegraph
Paralympics Opening Ceremony playlist
The LSO, Britten, and new commissions at the Paralympics opening ceremony.
Classic FM
David Garrett, Lang Lang, and Lady Gaga?
The classical music stars reveal their penchant for pop after attending Lady Gaga's Born This Way Ball concert in Vienna.
Piano tuning changes brain structure
You don't need tuning forks or perfect pitch to tune a piano – in fact, listening to minute differences between notes can improve your brain structure, according to a new study
Kent Nagano appointed Principal Guest Conductor of Gothenburg Symphony Orchestra
He adds his name to a host of master-conductors, including composers Sibelius and Nielsen, as well as Herbert von Karajan, Neeme Järvi and Gustavo Dudamel.
Arts Journal – Slipped Disc
Top conservatory leader drops out without a whimper
We have just been informed that the Royal Northern College of Music in Manchester replaced its director last month.
NPR Music
Barenboim's Beethoven: A Soloist And Conductor In Complete Agreement
Conductor, pianist and peace advocate Daniel Barenboim first recorded all five of Beethoven's piano concertos in 1967. Barenboim, a brash and fantastically smart 24-year-old, was paired with an elder statesman, conductor Otto Klemperer. There was real magic in that collaboration, yielding recordings that still set a benchmark.
Playbill Arts
The London Symphony Orchestra Returns
Fresh from its starring role in the opening ceremony of the London 2012 Olympics, the London Symphony Orchestra returns to Lincoln Center next month for its annual New York residency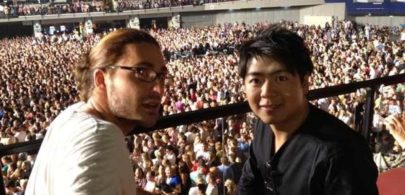 Lang Lang and Garrett at a Lady Gaga concert – Classic FM