Classical News
In our news today, Beethoven as most popular composer, Karina Canellakis wins Solti award, the David Bowie memorial concert to be streamed via Skype for charity & The New York Times gives an insight into Metropolitan Opera.
The New York Times
A Night (and Many Days) Backstage at the Metropolitan Opera
Behind its facade of white travertine and auditorium of red velvet and gold leaf, the Metropolitan Opera is essentially a factory.
Classicalite
Beethoven overtakes Mozart as most popular composer in new poll
A new listener's poll conducted by Classic FM has Beethoven besting Mozart as the most popular composer. The classical music station's annual poll results have historically had Mozart in the top position.
Music Week
SoundCloud launches subscription service, SoundCloud Go, in the US
SoundCloud has unveiled SoundCloud Go, a subscription service that offers an "additional layer of music and supporting features, created to complement and enhance the existing" SoundCloud experience.
Classical Music Magazine
Karina Canellakis wins Solti Award
Karina Canellakis has won the $25,000 (£17,500) Sir Georg Solti Conducting Award.
Classical Music Magazine
Orchestre National de Lille appoints Alexandre Bloch as music director
The Orchestre National de Lille has named Alexandre Bloch as its next music director. He will take up the position at the start of the 2016/17 season, succeeding the orchestra's founding conductor Jean-Claude Casadesus.
BBC News
David Bowie memorial concert streamed live for charity
A David Bowie memorial concert will be streamed live internationally in exchange for charitable donations, organisers have said. Due to "unprecedented interest" promoters have teamed up with Skype, so that fans, in exchange for a minimum donation of £15, can watch the event.
Zeit Online
US-Jazzkomponist mit 84 Jahren gestorben
Der US-amerikanische Jazzmusiker David Baker ist tot. In seinem langen Musikerleben komponierte er mehr als 2.000 Stücke.
Süddeutsche Zeitung
Jazz und Swing waren seine Markenzeichen, an denen er gegen den Zeitgeist festhielt – mit Erfolg. Zum Tode von Roger Cicero, der viel zu früh starb.
Der Tagesspiegel
Flimm: "Staatsoper ab Herbst 2017 wieder Unter den Linden"
Kaum sind die Festtage vorbei, geht's sofort weiter: Daniel Barenboim und Jürgen Flimm haben die Pläne der Berliner Staatsoper für die kommende Spielzeit vorgestellt.
Le Monde.fr
Toujours déficitaire, Pandora rappelle son fondateur à la rescousse
A la recherche d'un second souffle, Pandora change de patron. Lundi 28 mars, le service américain de streaming musical a remercié Brian McAndrews, qui occupait le poste de directeur général depuis deux ans et demi.
Il Messagero.it
Rita Sala, il ricordo di Riccardo Muti: «Quei nostri dialoghi dominati dalla meraviglia»
La notizia della morte di Rita mi è giunta all'improvviso e assolutamente inaspettata.
El Mundo
Música contemporánea: no muerde
El compositor Tomás Marco inicia hoy una serie de conferencias dirigidas a acercar a la música de los siglos XX y XXI al público general, es decir, interesado pero no experto en la materia.
Twitter
BBC Radio 3 @BBCRadio3: We're heading back to the late Classical era for Music in Time, with Beethoven's Missa solemnis #EssentialClassics
Classic FM @ClassicFM: Coming up shortly @JohnSuchet1 gives a first play to the stunning #NightManager soundtrack: http://classfm.co/night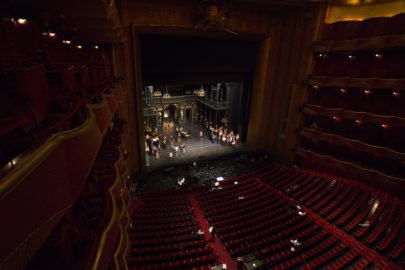 A rehearsal at the Metropolitan Opera of the new production of "Roberto Devereux" by Donizetti. Photograph: James Estrin/The New York Times