Gramophone
Vladimir Ashkenazy to conduct Nimrod Borenstein premiere
Ashkenazy will also conduct the composer's The Big Bang and Creation of the Universe, Op 52 – hear an excerpt!
Music Teacher Magazine
Whitgift School launches International Music Competition
Whitgift School, an independent boys' secondary school in South Croydon, has launched a new International Music Competition, offering music scholarships as prizes.
Standpoint Magazine
It used to be policemen that kept get- ting younger. Now, it's conductors.
Slipped Disc 
While waiting for this violin concerto, you may grow very old
On Sunday, I heard Leonidas Kavakos give an unduly restrained performance of the Berg concerto with the LSO. He should have been playing the UK premiere of Osvaldo Golijov's new concerto, but it wasn't ready
Deceptive Cadence
The Peony Pavilion: A Vivid Dream In A Garden
The Peony Pavilion is one of China's most famous operas, but uncut performances of this romantic 16th century work can take more than 22 hours.
Bleader, Chicago Reader
Some of the scariest opera moments ever might be coming up Sunday, when Lyric Opera invites the kiddies in forPopcorn & Pasquale, a 70-minute "opera adventure" designed to introduce five- to 12-year-olds to the art form, which they can then begin to enjoy right along with their great-grandparents.
The Guardian
The Rest is Noise festival: what's your favourite piece of 20th-century music?
In anticipation of the Southbank Centre's year-long The Rest is Noise festival, conductors, musicians and artists share their favourite classical works from a century of musical turbulence
New Music Box
String Quartet Smackdown! In Austin
How many times during a heated debate about chamber music have you longed for a pair of boxing gloves or perhaps a cricket bat? In the topsy-turvy world of new music, sometimes having a solid piece of wood in your hand can be quite useful.
BBC Music Magazine
New pipe organ commissioned as a gift for the Queen
The Lord Mayor of London has commissioned a new organ to be installed in Westminster Abbey to mark the Queen's diamond jubilee.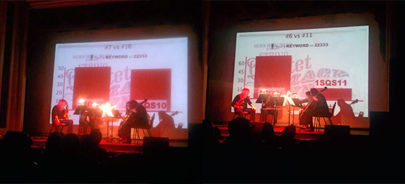 New Music Box