Gramophone
Decca marks Solti anniversary with remastered Ring in deluxe box-set
Gramophone has five to give away!
Former US footballer to sing with Met Opera
Keith Miller, a former American Footballer who narrowly missed out on playing in the NFL, is now due to sing with Metropolitan Opera.
London Philharmonic Orchestra play at Heathrow
Come spy with me! Passengers at Heathrow Terminal 5 were treated to a selection of the best of Bond from the London Philharmonic Orchestra this morning.
Katherine Jenkins sings national anthem at American football game
Katherine Jenkins sang the national anthem at the St. Louis Rams vs New England Patriots NFL International Series game on Sunday night.
Tom Service's Blog, The Guardian
What are the scariest pieces of classical music?
As Halloween casts its shadow over us, what better time to delve into the darker side of classical music
Slipped Disc
Just in: Cleveland Orchestra cuts three-year pay deal
While other orchs lock out their  musicians, Cleveland has reached a quiet, reasonable, very Cleveland agreement.
Empty seats at Covent Garden to greet the Queen?
This morning, there are still some £200 and £500 seats available for tonight's royal fund-raising gala and dinner featuring, among others, Roberto Alagna, Angela Gheorghiu and Bryn Terfel.
LA Times
Update: Hurricane Sandy forces closures for Broadway, concerts, museums
Hurricane Sandy has forced many cultural institutions in the Mid-Atlantic region to close their doors and cancel performances.
Deceptive Cadence, NPR
Halloween Fright: Five Versions Of That Terrifying Toccata And Fugue
Many folks would call Bach's Toccata and Fugue in D minor the ultimate piece of scary music, thanks to any number of horror movies and pop culture moments that have used its thundering organ sounds as a kind of ghoulish shorthand.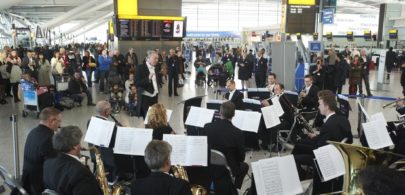 Classic FM