Gramophone
A new disc of choral music for Remembrance Day – hear an excerpt!
Tamesis Chamber Choir donates all profits to ABF The Soldiers' Charity
The Telegraph
Vivaldi remixed: classical music reinvents itself
Max Richter's new version of Vivaldi's Four Seasons shows that the classical remix has finally come of age, says Ivan Hewett.
Slipped Disc
Just in: Arts Council England to cut one in five jobs
The long awaited axe has fallen. ACE will reduce its staff from 559.5 to 442 and halve its executive director team from eight to four.
Breaking: classical record label is sold
Brilliant Classics, a Dutch reissue label that specialises in low-priced mega-editions, has been bought out by Hamburg Edel AG, an entertainment group which owns Face Down Records, Gang Go Music, Club Tools and Control Records.
LA Times
Protest planned for Israel Philharmonic concert at Disney Hall
Wherever the Israel Philharmonic Orchestra goes, protests seem to follow.
Deceptive Cadence
Perhaps no other composer's music has been dressed up (and down) in a wider variety of outfits than Johann Sebastian Bach's.
The Northerner Blog, The Guardian
Opera North opens Pandora's Box
Northern musicians join colleagues from Iceland in new score for of the tragic story of a beguiling but self-destructive young woman, one of the silent movie classics of Germany's Weimar republic
The Daily Mail
The Donkey that outsang Domingo: How Pollyanne was saved from the salami factory to star at the Royal Opera House
Just a few weeks earlier, I'd known next to nothing about opera. Now I could drive to the Royal Opera House almost with my eyes shut and get a friendly cry of 'hello' from the greatest tenor in the world, Placido Domingo, when I strolled backstage, humming my favourite arias from the latest show.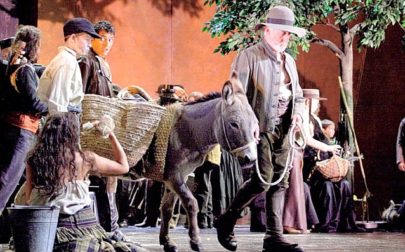 The Daily Mail