Gramophone
2012 Paul Hamlyn Foundation Awards for Artists announced
Three composers and five visual artists each receive £50,000 over three years
Classic FM
Sting and Lee Hall support In Harmony North East
Sting and Lee Hall have pledged their financial support to the In Harmony North East Project.
The Pulitzer Prize-winning American composer known for his avant-garde music died in New York last night.
Howard Shore's The Hobbit soundtrack details released
Academy Award-winning composer Howard Shore's soundtrack for The Hobbit: And Unexpected Journey now has an official track-listing and artwork.
The Guardian
The Pilgrim's Progress: Vaughan Williams's masterpiece returns at ENO
On the eve of its comeback performance at English National Opera, conductor Martyn Brabyns explains why it has taken more than 60 years to bring this opera back to the stage
Slipped Disc
Chinese composer wins Russia's Shostakovich award
Tan Dun says he wants to rebuild bridges between the two nations. He called Russia 'the homeland of music', which ought to go down well in the US, where Tan Dun completed his studies and lived for two decades.
The Arts Desk
Opinion: why arts education matters
Michael Gove's plan to marginalise the arts spells disaster, argues one of theartsdesk's writers from the frontline
The Daily Mail
That looks a little fiddly! Musician gives up his cello to make the smallest violins in the world… and they're yours for £1,000
David Edwards gave up his professional music career to become a miniaturist, making pieces for doll's houses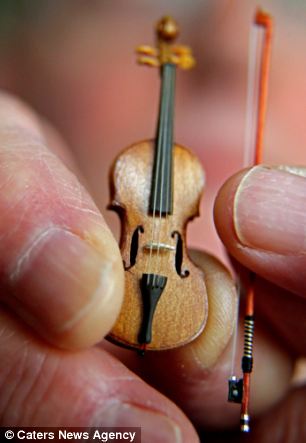 The Daily Mail