Classic FM
Classic FM celebrates Bond music with Hollywood composers
The music of James Bond will be celebrated by Classic FM in a two-hour special broadcast featuring interviews with Bond composers David Arnold and Thomas Newman.
New Zealand MP to become opera singer
Dr Lockwood Smith, MP and Speaker of the House of Representatives in New Zealand, is to perform alongside the New Zealand Pops Orchestra later this month.
The Evening Standard
Deceptive Cadence, NPR
The MacArthur 'Genius' Bow Maker Who Makes Violins Sing 
Among the 23 recipients of the MacArthur "genius" grants this past week: an economist, a mathematician, a photographer, a neuroscientist, and a Boston-based stringed instrument bow maker.
The Independent 
With women in the classical world ignored or treated as objects, Jessica Duchen says it's time for a new prize solely for them
Leona Lewis, the chart-topping pop star who wants to give it all up to sing opera
Simon Cowell's biggest 'X Factor' success tells Adam Sherwin that despite 20 million record sales she's still not satisfied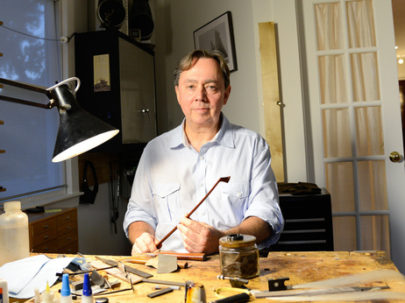 Deceptive Cadence, NPR