Tom Service recently highlighted the new research which suggests that 'young people are put off by formal concert formats' in his Guardian blog, leading us to ask whether the immersive theatrical experience is the way forward for the future of classical music.
Alternative musical experiences over the last few years have often proven to be very popular.  OperaUpClose's production of La Bohème at the Cock Tavern pub theatre in Kilburn was so successful that it now boasts the accolade of the longest continuously running opera in history.  And Charles Hazlewood's recent outdoor Classical music festival 'Play the Field' saw thousands of people enjoying orchestral music in a relaxed atmosphere, in Charles' Somerset farm near Glastonbury.
One of the great cellists of our time, Alban Gerhardt is no stranger to experimenting with alternative performance venues.  Similar to ENO and Punchdrunk's production of The Duchess of Malfi in an office block, in July 2010 Alban performed at the Radialsystem in Berlin, a former water utility plant.  Here Alban played a marathon of Bach's Cello Suites from four different locations within the hall to an audience who were encouraged to relax on the lounge furniture, sit casually on mats on the floor, and listen outside on the terrace or in the bar whilst drinking a glass of wine.
For his new, exciting project with WildKat PR starting today, Alban will be continuing his exploration of unusual performing spaces.  Every day listeners will be encouraged to phone in to a local radio station in Germany to suggest unique locations in which they wish to hear Alban play; maybe a classroom, maybe a department store, or even a yoga class!  Alban will be visiting various German cities throughout the week, performing to the people of Rostock today, Stralsund on Tuesday, Kiel on Wednesday, Lübeck on Thursday and Hamburg on Friday.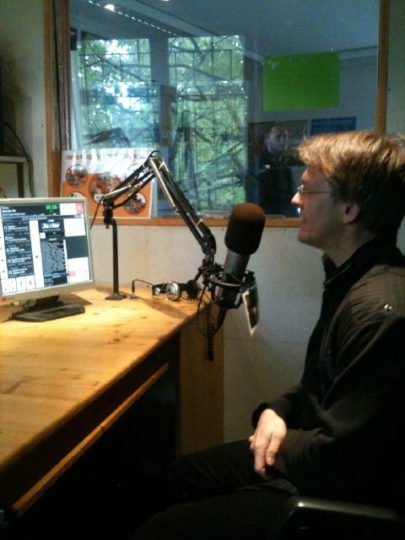 Alban is interviewed by Radio Lohro in Rostock
Your reaction to Alban's new project may be one of surprise, curiosity or amusement.  Yet musicians have been pushing the boundaries of what we consider as conventional Western performance venues for decades.  In the mid-twentieth century Pierre Boulez called to burn down all the opera houses and Stockhausen suggested that the traditional concert hall should be replaced with a new spherical concert space with loudspeakers placed against the walls.  Since then composers have been constantly experimenting with different venues for musical performance, such as sending a string quartet to play in helicopters in Stockhausen's Helikopter-Streichquartett.
With this in mind, in 2010 is it still controversial to play music that would normally be found in a concert hall in an alternative space?  Why is it that audiences still find it so fascinating?  Is it because the concert hall tradition remains so strong in our society that alternative musical experiences are still regarded as surprising and unusual?
Or is it the permanent element of chance, spontaneity and uncertainty that keeps this concept alive?  Is it the consistent sense of the unexpected that keeps the unconventional performing spaces idea an exciting and relevant one?
In Alban's performances this week, this excitement will be enhanced further by WildKat PR's new twist; putting the audience in charge of where Alban performs. Not only does the immersive musical experience adjust the audience's role, it is also a challenge to the performer.  Commenting on his performance in his blog entry link 'Bach Marathon', Alban Gerhardt declared that due to the constant changing of lights and locations throughout his performance at the Radialsystem, more energy was required from him than in a conventional concert.  He explained; "I felt obliged to live up to their expectation in a different way, almost like a story-teller in an Arab market where the audience is longing for his unbelievable stories, and when he loses his thread or can't come up with something really exciting, the people will walk away, so he has the pressure on him to provide some constant spark."
With this need for a 'constant spark', the immersive musical experience is both a challenge to musicians and audiences alike, making it perhaps more relevant today than ever before.  And with Tom Service noting that concerts such as the Orchestra of the Age of Enlightenment's Night Shift are successful in preserving 'the best of the traditional classical concert – the great performances – with a genuinely accessible informality', the unconventional concert is capable of bringing music to a wider audience without sacrificing musical quality.  Through these attempts to bring music out of the concert hall, musicians such as Alban Gerhardt are creating a new cultural practice for our generation.
For more information on Alban Gerhardt's performances, visit his website.