The Guardian
Royal Philharmonic Society honours international music makers
Five musicians working in challenged communities to receive honorary membership of the RPS
Sarah Brightman wants to pioneer space rock. Literally
Singer hopes to write and record music on the International Space Station, when she will become the first professional musician to dock there
BBC News
Maria Miller: Arts must make economic case
Culture Secretary Maria Miller has said the arts world must make the case for public funding by focusing on its economic, not artistic, value.
Gramophone
Benjamin Shwartz named Wrocław Philharmonic Orchestra music director
American conductor begins his new role from the 2013-14 season
The Economist
A modern, high-tech venue with ambitions to make Austria's third-largest city a destination for opera-goers
The Spectator
Are today's composers up to the challenge of writing sublime music?
When we describe music as 'sublime', what do we mean? For the Romans, sublimissignified greatness beyond measure.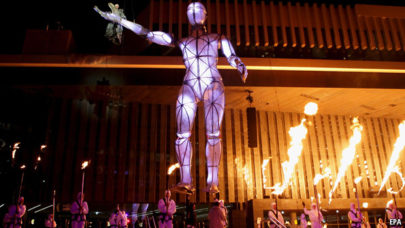 The Economist