The Telegraph
English National Opera must publish an open Annual Report
Rupert Christiansen asks whether English National Opera is being economical with some uncomfortable truths.
The Guardian
Elliott Carter: music of storms and stillness
The American composer Elliott Carter died last year aged 103. As the Aldeburgh festival prepares to stage a posthumous premiere of new work, Mark Haddon celebrates his 'inhuman', beautiful music
These New Puritans: Field of Reeds
"You might hear Field of Reeds as a collection of experimental rock songs or as a suite of contemporary classical composition" Available for purchase from 10 June 2013.
The Times
Foghorns on the Tyne, a musical armada
Probably the year's most distinctive piece of new music will be premiered next week.
Gramophone
Organist Cameron Carpenter signs to Sony Classical
Initial 2014 release to feature transcriptions of classical and modern music
Classic FM
Philadelphia Orchestra play Dvořák on airport runway
Passengers on a delayed flight in China were surprised by a pop-up performance from the Philadelphia Orchestra early this morning.
Der Tagesspiegel
Junger Klassik-Star in der Virtuosen-Falle
Der Klarinettist Andreas Ottensamer ist erst 24, hat es aber schon weit gebracht. Der gebürtige Wiener ist Solist bei den Berliner Philharmonikern und hat gerade ein grandioses Album herausgebracht. Trotzdem könnte er jetzt bei dem Orchester herausfliegen.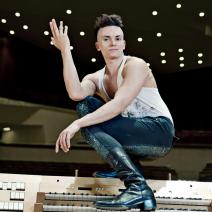 Gramophone