The Guardian
Happy 125th birthday, Concertgebouw
Amsterdam's world-class orchestra and concert hall celebrate their 125th anniversary this week. Tom Service explains why the hall's famously perfect acoustics create unexpected challenges for its players.
The Guardian
RPS awards: Stockhausen's helicopters and the Guardian's Tom Service
Nominations for the classical music industry's most respected annual gongs, the Royal Philharmonic Society awards, have been announced
The Telegraph
David Mitchell on his 'bonkers' new 3D opera Sunken Garden
The novelist David Mitchell speaks to Sameer Rahim about writing the libretto for a spectacular occult-mystery-film-opera, Sunken Garden.
Classic FM
Soprano Julia Lezhneva on her fairytale career so far 
The talented 23-year-old soprano shares the highlights of her career so far with John Brunning, and talks passionately about Baroque vocal music.
Gramophone
Rosenblatt Recitals founder announces new summer music festival
Branscombe Festival will run from July 26-28, 2013.
Classical Music Magazine
Richard Hallam takes up ISM presidency
The Incorporated Society of Musicians has formally announced the appointment of music education specialist Richard Hallam as its president, an appointment which will last one year. Hallam takes over from choral conductor Suzi Digby.
Plunet Hugill
In 1749 an English engineer called John Grundy visited Charles Jennens' house, Gopsall Hall in Leicestershire. In his travel diary he describes the interior, with the particularly grand music room complete with stucco ceiling and carved marble fireplace…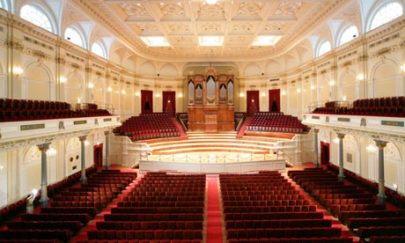 The Guardian