The Independent
Placido Domingo to receive ceremonial Freedom of the City of London
Spanish opera singer Placido Domingo is in the UK today (16th April) to receive the ceremonial Freedom of the City of London.
Classic FM
Giacchino calls for John Williams to score Star Wars VII
Film composer Michael Giacchino has revealed that he wants to hear a John Williams soundtrack for the new Star Wars movie, despite speculation that he would be commissioned to compose it.
Gramophone
A new set of ten stamps, released today by the Royal Mail, celebrates ten Great Britons – and it's encouraging to see a classical composer acknowledged in his centenary year, Benjamin Britten.
New York Times
Jörg Widmann – On Clarinet, The Composer
Two years ago, in the intimate Rose Studio high above West 65th Street, the German composer and clarinetist Jörg Widmann opened a Chamber Music Society of Lincoln Center concert with a performance of his Fantasie for Solo Clarinet, inspired by commedia dell'arte.
The Guardian
The hidden treasures of Covent Garden: spangles, gilt and a singing green head
Relics from the Royal Opera House and Royal Ballet's most famous productions are wheeled out of storage for preservation.
BBC Music Magazine
The conductor Sir Colin Davis has died at the age of 85.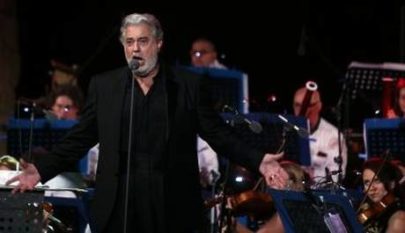 The Independent