The fourth International Wimbledon Music Festival took place at the beginning of November, hosting 'A World Music Fair', with music and musicians from all over the globe. With increasing relationships between the partner festivals, the International Wimbledon Music Festival shared commissions with the Australian Festival of Chamber Music, Martiu Festtage, Sitka Festival and El Paso. Distinguished pianist Piers Lane, Artistic Director of the Australian Festival of Chamber Music, and internationally acclaimed cellist Zuill Bailey, who is also Music Director of the Sitka Summer Music Festival and El Paso, both performed at the Wimbledon Music Festival this year. Lane and Bailey performed alongside violinist Jack Liebeck, double-bassist Rinat Ibragimov – who performed in 'Music in the Family' at the festival with his daughter, violinist Alina – as well as horn player Richard Watkins and Tim Constable, or the European Premiere of Benjamin Wallfisch's 'Chopin' Waterloo', which can be see here:
'Chopin's Waterloo' is inspired by art of the French-born American artists Arman, who incorporated musical instruments into his works. Wallfisch's piece is the first work jointly commissioned by the all four partner festivals.
A highlight of the festival was Russian virtuoso Mikhail Rudy's Celebrity Piano Recital of 'Petrushka', which was accompanied by a projection of elaborate puppets and dancers from leading ballet companies. British actor Benedict Cumberbatch also featured in the festival, to narrate Britten's 'Six Metamorphoses after Ovid' alongside internationally acclaimed oboist Nicolas Daniel. The concert received outstanding reviews, with a Bach Track reviewer stating there was the 'most genuinely engaged and enthusiastic audiences I've ever been a part of at a classical concert', by the end of the evening. Another of the festival's Celebrity Recitals was Schubert's 'Schwanengesang' performed by tenor Mark Padmore and pianist Simon Lepper. The recital was highly praised, with Robert Hugill expresses that Padmore 'used his voice to bring a remarkable range of colour and nuance into the music', accompanied by Lepper, 'who brought out the subtleties and beauties of Beethoven's accompaniment' in the works at the beginning of the concert.
The International Wimbledon Music Festival has established itself as a global event, with the Evening Standard stating it 'has established itself as a major player, as a glance at its roster attests', welcoming international musicians and shared commissions from its partner festivals. With exceptional reviews and sold-out performances, the fifth Wimbledon Music Festival will be eagerly anticipated.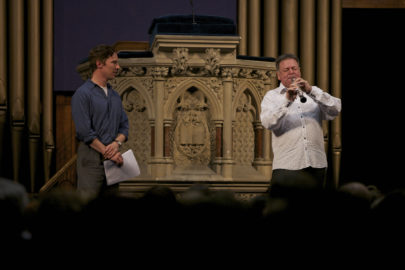 Photo Credit: John Yip