The Independent – Blogs
Racial diversity in classical music: A daunting experience for non-white professionals working in the industry today
Currently, just five per cent of classical music professionals working in the UK identify as black and minority ethnic – and this figure shows no sign of rising, according to the Arts Council Staff Survey.
The Telegraph
Is pirate music ever justified?
After Krystian Zimerman's recent outburst at an audience member for filming on their phone, Rupert Christiansen wonders if it will ever be possible to eliminate pirate recording.
The Guardian
Can New York students design the Baltimore Symphony Orchestra a wardrobe fit for the 21st century?
New York Times
Young Star Raises Funds for Making Younger Stars
Lang Lang International Music Foundation Gala at Carnegie
BBC Music Magazine
The British Library celebrates Britten's centenary with a new exhibition
Draft score for A Young Person's Guide for the Orchestra goes on display for very first time at the British Library as part of Britten 100
Limelight Magazine
Richard Mills withdraws from Opera Australia's Ring in Melbourne
The maestro leading one of Australian opera's largest and most expensive undertakings calls it quits, citing issues of "personal chemistry".
NPR Deceptive Cadence
'Becoming Traviata': A Look At Opera From Behind The Curtain
It's easy to think of opera as little more than an affected flock of singers warbling onstage in lacy brocade with pancake makeup, chandeliers and champagne.
Die Zeit
Der lettische Dirigent Mariss Jansons bekommt den Siemens Musikpreis zu Recht – aber warum wählt die Jury nie eine Frau?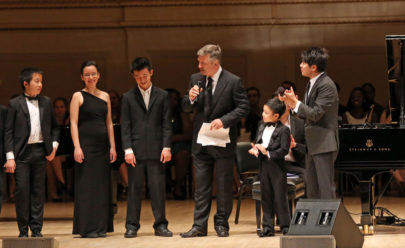 New York Times