Sam Jackson is an executive producer at Classic FM. We spoke to him to find out what skills he thinks are needed to succeed in the music industry…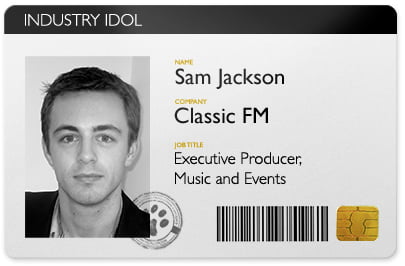 What are the first, most important steps a young artist needs to take when they embark on their career as a performer?
Find someone who's started on that path already, and don't be too shy to ask their advice. Also, decide on who your target market is – especially if you want to explore recording deals. Do you want to be a soloist, or are you happy to share the limelight? Are you willing to be marketed for your image as well as your musicality, or does that idea fill you with horror? These are really important questions which too many people ignore, I think.
What was your first job in the music industry?
Working as a runner on The Proms, which involved anything from legging it down to Waitrose to stock up on drinks and nibbles for the TV interval guests to chasing after Tasmin Little's elusive cab in the rain (with the very lovely Tasmin and her mother following just behind).
What skills do you think are needed to succeed in the music industry?
A sacrificial attitude towards work, especially in the early stages of your career. Very few people I know in the music industry, particularly within broadcasting, got to where they are immediately. Instead, most of us spent a good few months or even years working odd hours or unpredictable shift patterns in order to build up experience. Tenacity and self-confidence certainly go a long way – but I'd say that being a grafter is more likely to make you stick out from the crowd and be seen as someone who shows a genuine commitment to what you do.
What's the most important thing you've learnt during your career?
That the music business is actually a very small world, and that your reputation is built on how you treat individuals. We have relationships with people, not organisations; in my seven years at Classic FM I've been constantly reminded that developing meaningful relationships with the people that matter is absolutely crucial. You can't expect things to simply happen because of who you are or where you happen to work.
What do you enjoy most about your job?
Without a doubt, the variety. I love the artistic elements of my job – listening to new music, crafting radio programmes, working with presenters and producers – but I also relish the opportunities that working for a commercial organisation affords. I'm heavily involved in all of Classic FM's CD releases and concerts, as well as Classic FM Magazine and our website. All in all, it's a fun way to earn a living.
On a typical working day, what's the first thing you do when you get into the office?
Visit the Classic FM coffee machine, only to nearly always discover it's flashing with an error message.
Do you think there is anything in the classical music industry that needs to be changed? If yes, why?
We need to think far more creatively about how to engage new audiences with classical music. There are millions of people who have no idea what an opus number is, don't really know what "in E flat major" means on a concert programme, and feel that classical music isn't for them. And yet, the industry as a whole could be doing so much more to reach those very people – many of whom are classical music connoisseurs in waiting. We need to ask them to allow us into their world, rather than expect them to come into ours.
Are there any young musicians, emerging venues, exciting companies, composers… etc that you are keeping your eye on?
I was privileged to see a young pianist called Behzod Abduraimov perform this week. He recently won the London Piano Competition and he's just been signed up by Decca – despite being only 20. His playing was astonishing – he's going to be a huge star.
Where do you read about classical music?
Aside from Classic FM Magazine and classicfm.com, I love the Observer's classical music coverage (Fiona Maddocks in particular) and also enjoy Edward Seckerson's reviews in the Indy. And then there's the inevitable Twitter, of course.
Where is your favourite place in the world for classical music?
It changes on a weekly basis – but right now, if only to fly the flag for a fabulous British venue and its wonderful resident ensemble Northern Sinfonia, I'll go for The Sage Gateshead.