This week's Industry Idols features Charlotte Caird – the Artistic and Managing Director of one of our favourite venues, The Forge.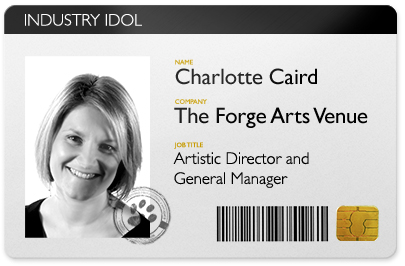 What are the first, most important steps a young artist needs to take when they embark on their career as a performer?
To get out there! Meet people, exchange ideas and come to concerts! I'm amazed at how few musicians actually listen to live music
What was your first job in the music industry?
Freelance musician – I think my first job was on a cruise ship
What skills do you think are needed to succeed in the music industry?
Determination, hard work ethic, talent as well as a head for business
What's the most important thing you've learnt during your career?
To always enjoy what you're doing!
What do you enjoy most about your job?
The creativity it requires – and finding new talent!
On a typical working day, what's the first thing you do when you get into the office?
Put the kettle on.
Do you think there is anything in the classical music industry that needs to be changed? If yes, why?
I think it need a more positive attitude. People outside the classical world are so quick to say that it is a dying art form. There needs to be a far more go-getting attitude from artists, venues and promoters alike. Stuffiness and snobbishness can really put new audiences off.
Are there any young musicians, emerging venues, exciting companies, composers… etc that you are keeping your eye on?
Musicians – Ivana Gavric (classical piano), Keziah Thomas (harp), G Project, Lawsone Piano Trio, Manu Delago (hang player and percussionist), Anthony Strong (jazz piano and vocalist), Kit Downes (jazz pianist), Phronesis (jazz group), Beats and Pieces Big Band.
Venues – I have to keep a strong eye on The Forge!
Composers – Andy Scott
Where do you read about classical music?
Classical Music Magazine, Time Out
Where is your favourite place in the world for classical music?
The Forge of course!