This week's interviewee is Gaetano Santangelo, Amadeus Magazine's Editor. Amadeus is an Italian classical music magazine released every month which began in 1989.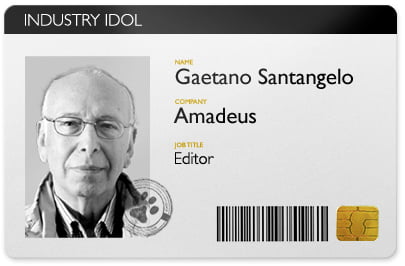 What are the first, most important steps a young artist needs to take when they embark on their career as a performer?
I don't think there are common rules. Every artist learns about himself and how to estimate his own strengths step by step. The hardest part is trying to find good opportunities to get in the game.
The ways to start a career are the ones that everyone know: competitions, concerts, album releases, artistic agencies and, at least at the beginning, a bit of luck.
What was your first job in the music industry?
My career in the music industry started in an unusual way: I went through high school first, then studied the piano and from then on I realised I had a clear passion for music
What skills do you think are needed to succeed in the music industry?
First of all, stubbornness, especially in a country where speaking of the music industry is improper; in Italy we don't actually have a music industry. If we consider the music industry as a series of activities that leads to commercial exchanges and consequently leads to operations, which help increasing investments, this industry doesn't really exist. The issue is quite complicated: the music industry would need contributions from the government, but the government itself is trying to cut these, hoping for private sponsor to come. Anyway, current law doesn't encourage this path.
What's the most important thing you've learnt during your career?
Never ever rest on success and try to aim high. It's not the easiest way, but it's the best one.
What do you enjoy most about your job?
Music, definitely.
On a typical working day, what's the first thing you do when you get into the office?
I read emails and if it's possible, I answer queries.
Do you think there is anything in the classical music industry that needs to be changed? If yes, why?
It would be necessary to start changing the idea that music (not only classical music) is an industry similar to consumer goods. It's a completely different world. It has its own life and it doesn't necessarily follow market rules. Sometimes we wonder why some artists have reached success compared to others who we think deserve more consideration; but in this case irrational factors come in to play. Maybe it's a matter of how strong the medias are, especially television, or the ability to choose. A good guidance is essential to let a talent come out.
Are there any young musicians, emerging venues, exciting companies, composers etc that you are keeping your eye on?
Today it's easier for young talents to receive help from our magazine: they consider it a showcase to make themselves known. There are several cases in which labels have engaged artists launched by Amadeus.
Where do you read about classical music?
I read news and essays.
Where is your favourite place in the world for classical music?
There is no place like the theatre.