Here is the second instalment of our ongoing series 'Industry Idols'. As mentioned last week we will be carrying out interviews with key members of the music industry to investigate how their careers began.
Todays interview is with Director of Ingpen & Williams, Jonathan Groves.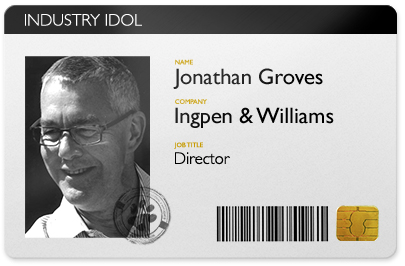 What are the first, most important steps a young artist needs to take when they embark on their career as a performer?
To be absolutely sure that this is what they need, not just want, to do and that they have the strength and courage to face the obstacles that will inevitably be thrown in their path.
What was your first job in the music industry?
Office boy at Ingpen and Williams – in September 1974. I spent the first two days with my feet on my desk reading the papers as nobody gave me anything else to do. On the third day I was sent to meet the Chicago Symphony Orchestra at Heathrow, and I've been busy ever since.
What skills do you think are needed to succeed in the music industry?
Common sense and an acute understanding that it is the artists that matter and that management is merely a means to allow the artists the conditions in which they can produce their best work.
What's the most important thing you've learnt during your career?
The same answer as to the previous question.
What do you enjoy most about your job?
The opportunity to develop long-standing friendships with people all over the world.
On a typical working day, what's the first thing you do when you get into the office?
Make a pot of freshly ground coffee.
Do you think there is anything in the classical music industry that needs to be changed? If yes, why?
People need to trust their own judgement more and rely less on received opinion, and have the courage to act on their judgement – and boards need to appoint people with real opinions to leading jobs rather than be scared by so called 'mavericks'.
Are there any young musicians, emerging venues, exciting companies, composers… etc that you are keeping your eye on?
I'm very excited to have just taken on the young English conductor Andrew Gourlay. He becomes Assistant Conductor of the Hallé this month and you should all 'watch this space….'
Where do you read about classical music?
Mostly in the trade mags – I'm afraid I'm not yet a great online blog user…..
Where is your favourite place in the world for classical music?
The Concertgebouw Amsterdam – for its combination of acoustic excellence, informality, range of programming and the fact that it almost always full regardless of the repertoire.