This week's Industry Idol is Classic FM presenter, Nick Bailey: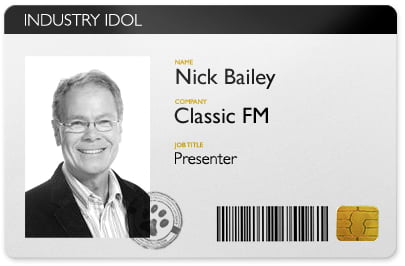 What are the first, most important steps a young artist needs to take when they embark on their career as a performer?
Can't really comment about performers, but if you're trying to get into the radio industry the most important thing is experience and more often than not this involves unpaid work. Classic FM has taken several people on following work experience stints. Global Radio has a radio academy which is a very good way of gaining experience. It also helps to have a passion for whatever branch you want to get into. I had wanted to be a "dj" ever since the age of 14.
What was your first job in the music industry?
My first job was as a newsreader with Radio Caroline in 1966 at the age of 19.
What skills do you think are needed to succeed in the music industry?
To be honest with yourself as to your capability. A combination of humility and ego.
What's the most important thing you've learnt during your career?
To keep re-inventing yourself.
What do you enjoy most about your job?
Communicating with people all over the world. Classic FM has a large overseas fan base.
On a typical working day, what's the first thing you do when you get into the office?
Check my emails. Then make a cup of builder's tea!
Do you think there is anything in the classical music industry that needs to be changed? If yes, why?
There's still a snobbery attached to it, but Classic FM has really helped in breaking this down. Also why do so many classical concert venues keep the house lights on? It kills the atmosphere. It doesn't happen in theatre.
Are there any young musicians, emerging venues, exciting companies, composers… etc that you are keeping your eye on?
The 100 Club in Oxford Street which holds classical music evenings every second month in what's known as "Classical Music in a rock and roll setting". Brings in a completely new audience, and artists like performing there eg Nicola Benedetti, Leif Ove Andsnes and Joanna McGregor. Watch out for the composer Helen Jane Long and her debut album Embers.
Where do you read about classical music?
Classic FM Magazine, but also Daily Telegraph and Times.
Where is your favourite place in the world for classical music?
St Mark's Square, Venice. Sipping a very expensive coffee listening to a string quartet!