For the third installment of our new feature, 'Industry Idols', we interview the Editor of BBC Music Magazine, Oliver Condy.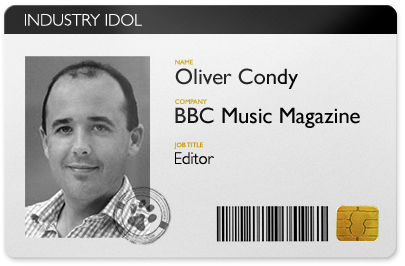 What are the first, most important steps a young artist needs to take when they embark on their career as a performer?
I think it helps, firstly, to be completely convinced that a career in music is what you want. You don't have to be a full-time professional musician to give concerts. Wanting to perform is one thing. Needing to perform is quite another. Once an artist has decided to embark on a career in music, he or she needs to face up to, shall we say, the less attractive parts of the business, including financial affairs and self-promotion. As for the latter, there are very few people who do it effectively with most musicians believing that the work will come to them.
What was your first job in the music industry?
I was editorial assistant at Classic FM Magazine from 2001, before which I spent 9 weeks or so doing work experience with them (they paid me enough to survive, but I had to live with a relative).
What skills do you think are needed to succeed in the music industry?
It's being in the right place, so that you're there when the right time comes along. In other words, you need to go and see people, talk to them, befriend them and be constantly inquisitive. If you want to get into the industry enough, you'll find a way. I remember the kindness the industry showed me when I started out – George Martin even sent me a letter encouraging me to keep at it. Approach people personally, and they're usually delighted to offer advice. I know I am.
What's the most important thing you've learnt during your career? or What's the best piece of advise you've been given during your career?
The best piece of advice: never make enemies of anyone. You never know where they might end up and when you might need a favour from them! The music industry is so small – everyone knows everyone – that it's easy to be alienated/talked about/ignored. And never, ever cancel a concert booking if you're offered something 'better'. That's the quickest way to be blacklisted. Oh, and be gracious as well. It goes a long way
What do you enjoy most about your job?
Various aspects. I love subbing and editing – the process from raw text to finished piece can be exhilarating. And I love talking to our contributors, many of whom are experts in their field. The travelling is great – from my annual trip to the States to a concert at Gloucester Cathedral… And the privilege of working in an environment where people are passionate about something.
On a typical working day, what's the first thing you do when you get into the office?
It varies, depending on how well we're getting on with the issue. Mostly, though, it's emailing and tea. But then sometimes I can spend a whole day e-mailing and drinking tea.
Do you think there is anything in the classical music industry that needs to be changed? If yes, why?
Not that I can think of. Everyone has their own level of experience and ways of presenting music, and anyone can change any aspect of it if they wish. What needs to change, though, is attitudes towards classical music of those in power. But there's little that can be done to combat the accusation that it's 'elitist', except to carry on making music of the highest standard and doing our best to present it to the widest audience possible.
Are there any young musicians, emerging venues, exciting companies, composers… etc that you are keeping your eye on?
There are too many to mention, which is a wonderful thing to be able to say. I wouldn't like to pin my colours to the mast, though, although I'm constantly surprised and delighted by the standard of young musicians coming through the ranks. They're getting younger and more talented every single year. As for venues, I love the ones that try something different. Limelight for its jazz club atmosphere and, on the other side of the coin, Kings Place for its unique approach to programming. And BBC Music Magazine's local hall, St George's for its chamber acoustic – the finest anywhere in the country.
Where do you read about classical music?
BBC Music Magazine, of course!
Where is your favourite place in the world for classical music?
Give me a fine British cathedral, evensong performed by a superb choir and a top-class organist, and I'm content.
Read our past interviews here, with Jonathan Groves (Ingpen & Williams) and Tony Hall (Royal Opera House).