This week's Industry Idols interviewee is Richard Wigley, the General Manager of the BBC Philharmonic Orchestra.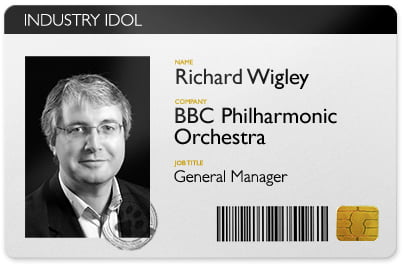 What are the first, most important steps a young artist needs to take when they embark on their career as a performer?
Never forget the thrill that started you in music, that spark will carry you through your career.
What was your first job in the music industry?
Bassoonist with the Halle Orchestra in Manchester.
What skills do you think are needed to succeed in the music industry?
Aside from talent and an ability to work very hard, negotiating skills are paramount; from soft day to day discussions to hard financial dealing.
What's the most important thing you've learnt during your career?
To help others (especially orchestra managers like me) to do their thinking; this way you can introduce and shape and deliver great ideas.
What do you enjoy most about your job?
The variety of challenges; no hour is the same as any other.
On a typical working day, what's the first thing you do when you get into the office?
Organise the two or three main priorities for the day.
Do you think there is anything in the classical music industry that needs to be changed? If yes, why?
Evolution is key, but gently does it.  Nothing ever remains the same.
Are there any young musicians, emerging venues, exciting companies, composers etc that you are keeping your eye on?
Yes, we're working closely with composers Emily Howard and Gavin Wayte to deliver some of their ideas for audiences.  Their company Out of the Blue is going to make an impact on our business.
Where do you read about classical music?
Mainly in the broadsheets.
Where is your favourite place in the world for classical music?
Wherever it's happening live.