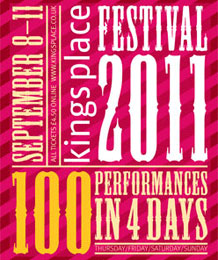 The fourth annual Kings Place Festival is taking place this weekend (8-11th September) and promises to deliver an outstanding array of performances – 100 to be exact – including classical and contemporary music, spoken word, dance, and even food demonstrations in the Green & Fortune Food Hall.
Following on from the immense success of last year's festival, the line-up in 2011 is the strongest yet, and ticket sales are at an all-time high. An even larger number of free and family events are being presented, with highlights including the Aurora Orchestra teaming up with The Little Angel Theatre to produce Mozart with Puppets, poetry adventures with Apples and Snakes, as well as Indian dance classes and 'a cappella' choir events for all ages to enjoy.
Another exciting and innovative venture can be found in the foyer of Kings Place. A giant, touch-sensitive dance floor has been engineered by composer Philip Venables, and as well as featuring a professional dancer, adults and children alike are invited to try it out for themselves. WildKat PR had already visited the dance floor during the early stages of its construction, and were extremely impressed by the technology used to create such an intriguing installation.
World-class soloists from the classical music world will be showcasing their talents across the duration of the festival, performing music ranging from the early Baroque to more modern repertoire. Featured are pianists William Howard and Ivana Gavric, as well as string ensemble the Brodsky Quartet. Jazz fans can enjoy performances from acclaimed artists Robert Mitchell, Ayanna Witter-Johnson and John Etheridge, and comedy enthusiasts can see John Hegley and Ardal O'Hanlon performing their stand-up routines in front of a packed-out audience.
Situated in the heat of the Kings Cross area, the central London location makes the festival easily accessible by tube, overground and bus. There is sure to be something to suit every taste, and with every event costing £4.50 or nothing at all, it is excellent value for money; truly an event not to be missed.
Tickets can be bought online from the Kings Place Festival website, or purchased over the box office telephone line on 020 7520 1490.