Elegy, described as a 'poetic love letter', tells the heart-breaking story of an gay Iraqi man, who managed to flee his country from the homophobic persecution, which resulted in over 700 murders of gay men.
The story is told beautifully, through director Douglas Rintoul, inspired by interviews with gay Iraqi men who fled the mass killings, images from photojournalist Bradley Seckler, and original music composed by award winning composer Raymond Yiu. In what The Good Review describes as a 'measured performance' with a 'calm and eloquent delivery', Raymond's music provides the threat of danger, and ominous atmosphere that surrounds the story. Specifically composed for the play, The Stage writes that despite the despair of the text, Raymonds's music is 'an ever-present ebb and flow of disembodied sound that continues to haunt long after'.
Elegy is an intense yet compassionate play, and has received nothing but outstanding reviews. It will be performed at Theatre 503 until 3rd November. For tickets and more information, visit the website here.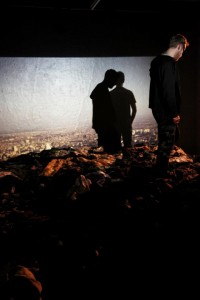 Photo credit: The Good Review