Faster Than Sound, Aldeburgh Music's experimental series, will begin 2012 with a very exciting exploration of mathematics, design and music.
'Symmetry', curated by mathematician Marcus du Sautoy and Lumin Production's Joana Seguro, will see du Sautoy collaborate with artist/designer Richard Rhys, continuing their exploration of patterns, to be interpreted by electronic musicians and visual artists' collective Farmersmanual. Inspired by the symmetrical patterns which dance across the walls of the Alhambra in Granada, the aim is to interweave different perspectives of the theme of symmetry from its appearances in nature to mathematics, art and culture, exploring its movement and dynamism.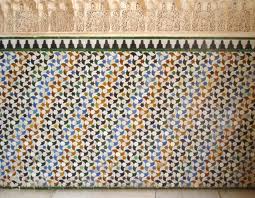 Britten Studio, Snape, 7.30pm, Saturday January 21st 2012
For more information please visit the Aldeburgh Music website (http://www.aldeburgh.co.uk/events/category/21)
To buy tickets please call the Aldeburgh Music Box Office on +44 (0)1728 687110 visit our website www.aldeburgh.co.uk or email boxoffice@aldeburgh.co.uk
See Marcus du Sautoy exploring the mathematics of the patterns of the Alhambra in a TED talk here:
Faster Than Sound is generously supported by the Paul Hamlyn Foundation.