The Telegraph
Granville Bantock: Britain's forgotten composer
Ivan Hewett tells the tale of Granville Bantock, a forgotten Victorian composer who is making his presence felt at this year's Proms.
Bringing the beleaguered Bolshoi to London
As the Bolshoi Ballet returns to London, Sarah Crompton talks to promoters Victor and Lilian Hochhauser, who first brought them to Covent Garden in 1963, about the state of the famous ballet company.
Gramophone
Christopher Rouse's Flute Concerto was composed as a direct response to the killing of James Bulger in Liverpool in 1993.
Christina Landshamer (sop) Leipzig Gewandhaus Orchestra / Riccardo Chailly
Classic FM
Singing helps when learning languages 
Can't get to grips with your French homework? German getting the better of you? Have a go at singing – it just might help you learn.
Metropolitan Opera installing new seats to combat fidgeting
The Metropolitan Opera in New York is to update its seating over the next 10 years with ergonomic seat cushions, to be installed through most of the 3,800 seat house.
BBC News
How do you start a music festival?
In the past decade there has been an "explosive increase" in the number of festivals held across the UK, according to industry promoters, but how do you start a festival?
Die Welt
Bezuidenhout ist der Justin Bieber des Cembalos
Der Südafrikaner Kristian Bezuidenhout spielt auch auf Konzertflügeln, aber seine Liebe gehört dem Hammerklavier. Bei ihm klingt die Tastenwerke Mozarts aufgekratzter, wilder denn je. Ein Porträt.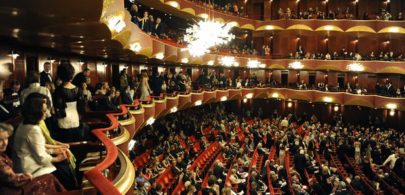 Classic FM