The Guardian
Danielle de Niese: 'I'm ripe and ready for Donizetti now'
Danielle de Niese dreamed of becoming an opera singer from early childhood. Now, as she stars in another lead role at Glyndebourne, she reveals how she became one of the world's most sought-after sopranos.
Happy 70th birthday Composer of the Week
Radio 3's longest-running programme is 70 today. Long-time presenter Donald Macleod reflects on a truly unique show
Classic FM
Sven Helbig's Pocket Symphonies pop-up concerts
To celebrate the release of his album Pocket Symphonies, composer Sven Helbig took his music to the people with a series of pop-up concerts around London, including pubs, the Apple store and Oxford Circus.
Jennifer Bell on taking musical risks at the Bristol Proms
Exploring intimate stories through song, Jennifer Bell talks internet dating, childhood memories, and personal journeys – told through the medium of music at the Bristol Proms.
Welsh National Opera presents Puccini's operatic thriller Tosca
From the first shattering bars Puccini's mastery puts you on the edge of your seat and keeps you there. Tosca features some of his most moving arias including Recondita armonia, Vissi d'arte and E lucevan le stelle.
Gramophone
Kenneth Woods named English Symphony Orchestra principal conductor
The promotion follows Woods' appointment as the orchestra's artistic director in 2012
Berliner Zeitung
Christopher von Deylen ist besser bekannt unter seinem Pseudonym Schiller. Jetzt hat der Musiker, der einer erfolgreichsten des Landes ist, ein neues Album produziert. Unter anderem mit Weltstars wie Anna Netrebko.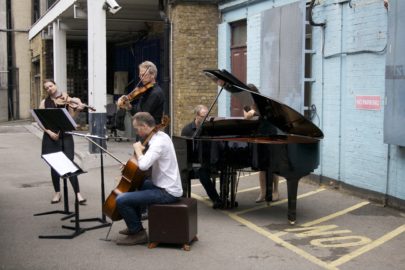 Classic FM