On Sunday the 10th of March the young singers of the Armonico Consort Academy will be performing at the Royal Albert hall, joined by the singer Russell Watson. The concert, 'Around the World in 18 Tunes', will involve more than 1000 children from across the UK all of whom sing in AC Academy choirs, both in and out of school time. The programme includes a highly diverse range of music from around the world, and also includes a performance of 'You Raise Me Up' by Russell Watson and the choirs and aims to inspire young singers and unite the younger generations through music. Sponsored by the trustees of the Royal Albert Hall this event recognises the achievements of the AC Academy across the country.
The Armonico Consort comprises a choir, orchestra and opera company which perform diverse programmes as they explore exciting ways to bring classical music to new audiences. Since 2002 their Academy has run arts workshops and un-auditioned choirs, as well as training music teachers in choir leading. In their history they have worked with over 100,000 young people.
To buy tickets and learn more about the event click here and to find out more about the Armonico Consort visit their website here.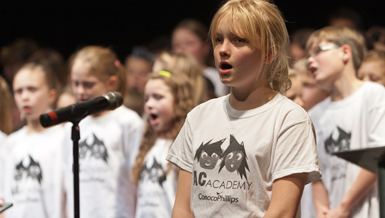 Royal Albert Hall