The Guardian
Maestro Verdi, your Art must not die
He gives music to the emotions … tenor Rolando Villazón on singing and listening to Verdi in his bicentennial year.
The Telegraph
Classical musicians demand 'sport star tax breaks' from George Osborne
The Chancellor should stop discriminating against visiting foreign musicians and artists by denying them tax breaks which are offered to top foreign footballers and athletes, leaders of Britain's biggest orchestras say today.
The Times
Magdalena Kozená: Simon Rattle's wife on singing with the enemy
Kozená is about to do something few singers are privileged to do: give a recital at the Staatsoper accompanied on the piano by Barenboim.
Classic FM
Alison Balsom to receive prestigious Silver Clef Award
Classical trumpeter Alison Balsom will receive the PPL Classical Award at this year's Nordoff Robbins O2 Silver Clef Awards.
Gramophone
LSO to perform two tribute concerts for Sir Colin Davis
The London Symphony Orchestra honours its former president and principal conductor on June 16 and 18.
Digital Journal
Pushing Toronto Opera Audiences Into New Territory
Alexander Neef, General Director of the Canadian Opera Company, recently announced the company's 2013-2014 season. It expresses not only a vision for the COC, but of opera's role in the cultural fabric of Canada's largest city.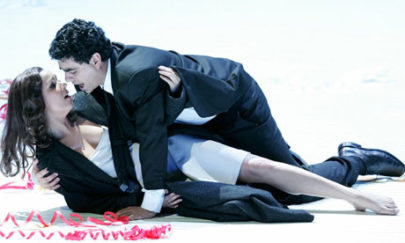 The Guardian