The extortionately priced sales of classical instruments have caused many a debate, and even a few controversies, over the years. Thefts most often bring to light the price of private instruments, particularly in the press. In 2010, acclaimed violinist Min-Jin Kym famously left her violin on the floor of a café whilst she ate lunch: the violin was stolen from under her feet. Unfortunately, the violin in question was a rare 314-year-old Stradivarius (one of only 450 worldwide) with an eye-watering price tag of £1.2 million pounds (The Telegraph).
Celebrated violinist Johannes Pramsohler, knows the value of his instrument, but thinks of it as just that: 'literally an instrument'. Speaking to german-language 'Südstern', Johannes acknowledges the importance of knowing an instrument's value so that it is looked after correctly, but says he chooses his instrument based on its sound: 'it is inspiring, if a violin sounds as good as mine'. His violin of choice is a P.G. Rogeri from 1713, previously owned by the illustrious Reinhard Goebel. When asked about its monetary value, Johannes notes that there is a question to be asked of any violinist: 'do you buy a house – or a violin?' He has obviously chosen the violin, something he calls a 'great investment'.
Obviously, there are those who could buy a private island, let alone a house, for the price of their violin. The recent asking price for a legendary Guarneri del Gesù design was £12 million pounds just a few years ago, the highest recorded price in history. However, to a player some might say that the importance of an instrument is priceless; it is their livelihood and a definite necessity. But in such an economically driven world it is hard for many to see this past the pound signs.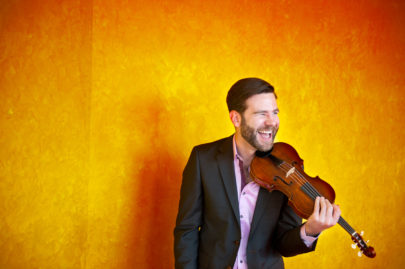 Johannes Pramsohler