WildKat PR is thrilled to welcome award-winning contemporary classical composer, Raymond Yiu and Turkish pianist AyseDeniz Gokcin to its client roster.
Since having had his first major work premiered by internationally renowned Lukas Foss, Raymond has proceeded to build an exciting career. He won critical acclaim for his debut opera score for The Original Chinese Conjuror, which premiered at The Aldeburgh Festival (2006), and his works  have been awarded numerous prestigious awards including the Chadwell Memorial Prize (2010) for his song cycle: The Earth and Every Common Sight, and the chamber category at BASCA British Composer Award (2010) for Northwest Wind.
Yiu, who is currently completing a DMus in Chinese music heritage under the tutelage of Julian Anderson at Guildhall School of Music & Drama, infuses his work with a definitive blend of Asian music, western influences and his academic discoveries.
Raymond's upcoming engagements include an exciting new commission for The BBC Symphony Orchestra entitled The London Citizen Exceedingly Injured, which will be conducted by Long Yu at its premiere at the Barbican on 18th January 2013.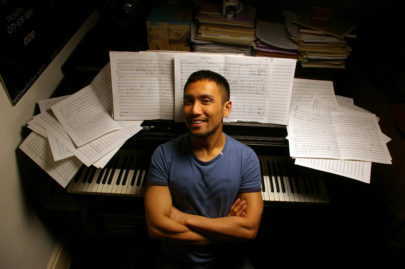 AyseDeniz Gokcin is a London-based Turkish pianist who had her concert debut at the age of nine. She has since worked with masters including Vladimir Sirenko and Kirill Karabits, and shaped her craft under artists such as Rosalyn Tureck, Christopher Elton, Douglas Humphreys and the Grammy-Award winning Ying Quartet.
Still at the start of what promises to be a prolific career, Gokcin has performed all around the world, covering The International Festival "Musical Kremlin," Moscow's Cathedral of Christ the Saviour, The Beijing International Music Festival & Academy in China and the International Istanbul Music Festival.
Never one to shy away from new challenges, AyseDeniz is currently working on an exciting new project, in which she fuses the music of Franz Liszt and Pink Floyd. She arranged three of her favourite Pink Floyd Songs in tribute to the style and approaches of Liszt's compositions: from thematic transformations, programme music to imitation of the orchestra.