On 13 September 2011 we profiled four outstanding young artists at the Forge in Camden, offering them an excellent platform to showcase their musical talents in front of a select audience including industry 'insiders' as well as friends and family.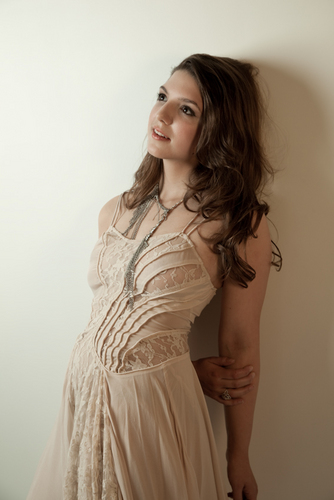 Daisy Chute is a multi-faceted artist with the innate ability to step between genres and give outstandingly convincing performances that captivate her audience.  A product of several top music schools, Daisy studied voice, piano, guitar and composition and sailed through her A levels with top marks, gaining a BMus (Hons) degree at King's College London with vocal tuition at the Royal Academy of Music.
Following great success in platinum-selling vocal quartet All Angels, versatile vocalist and composer/arranger Daisy is also continuing to develop as a solo artist. A debut jazz album at the age of 15 sparked off a record deal with Universal that led to three further releases crossing over into classical and folk territory. She has performed extensively across Europe both as a soloist and with All Angels in venues such as The Royal Albert Hall, Wigmore Hall and London's O2 Arena. Whilst remaining in touch with the jazz world, Daisy has been increasingly focussing her attention on her classical and operatic training. Despite being told for years that her jazz and classical pursuits must be kept separate, Daisy is now exploring through voice and composition how these two worlds can collide into a unique and original sound.
Oboist James Turnbull is an accomplished recitalist whose debut solo disc, "Fierce Tears" was released in 2011 by Quartz Music. This was recorded with pianist Huw Watkins and harpist Claire Jones and contains a number of world premiere recordings by contemporary British composers. As a featured artist of the Concert Promoters Network and the Countess of Munster Recital Scheme, James has performed many recitals throughout the UK and appeared in festivals including Swaledale, King's Lynn and Cambridge Summer Music.  In 2010 he gave his debut recital at the Wigmore Hall as a Maisie Lewis award winner from the Worshipful Company of Musicians. James performs regularly with pianists Elizabeth Burgess, Craig White and harpist Claire Jones. Concerto performances include Richard Strauss's Oboe Concerto with Southbank Sinfonia, Mozart's Sinfonia Concertante K. 297b with the Konstanz Philharmonie in Germany and Bach's Concerto for Oboe and Violin at St John's Smith Square.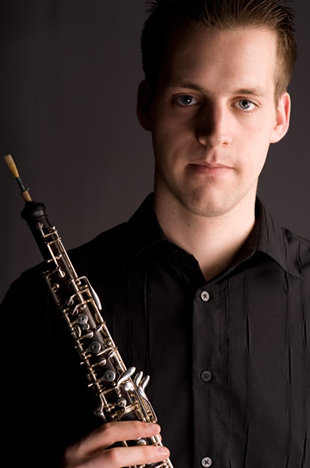 James is deeply committed to expanding the oboe repertoire. Composers including Patrick Hawes, Thomas Hewitt Jones and Norbert Froehlich have written for him. Most recently he recorded Thomas Hewitt Jones' Sonata Cimarella for Vivum Records which was released in May 2011. He 
has also worked closely with composers Michael Berkeley, John Woolrich, Thea Musgrave and Tansy Davies on their compositions for oboe. James has a keen interest in researching lost repertoire and bringing to new audiences works which have been rarely performed. Future performances include a premier of a new edition by Christopher Hogwood of Thomas Attwood Walmisley's Sonatina No. 1.
Aside from his performing interests, James is dedicated to broadening the appeal of the oboe and encouraging young people to start learning the instrument. To this end, he has begun an education and outreach project called 'The Young Person's Guide to the Oboe'.  Launching later in 2011, this initiative will see James tour numerous schools in the UK to promote the oboe and its repertoire. This will be accompanied by the launch of a new website LearnToPlayTheOboe.com.
Born in 1988, the spanish violist Isabel Villanueva has emerged as one of the best spanish musicians of the new generation. She is a prizewinner in several competitions including First Prize and Best String Player in the Intercentres Competition in Madrid 2006, First Prize (score 100/100) of the Concorso Internazionale per Giovanni Solisti "Città di Barletta" 2007, Second Prize in the Jeunesses Musicales Competition of Spain 2008, and Special & Audience Prizes at the International Mravinsky Competition in St. Petersburg 2008.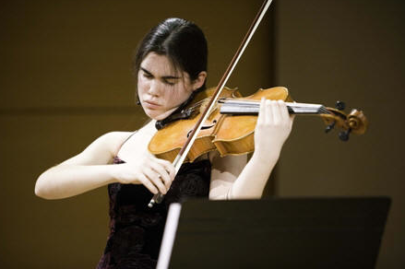 Graduating with Honours in Spain in 2007 where she studied with Igor Sulyga (violist Kopelman Quartet), she attended the Accademia Musicale Chigiana in Italy with Yuri Bashmet where she was awarded Diploma di Merito. She is currently studying for her Masters at the Royal College of Music in London with Lawrence Power, kindly supported by the RCM Joan Weller Award and the Fundación Caja Madrid of Spain. Also Isabel has a strong interest in promoting new music for the viola. Renowned spanish composers as Tomás Marco, David Johnstone and José Zárate have written for her and she has premièred works by Pedro Moreno, Tomás Marco, Emilio Mateu, and José Zárate.
Many of her performances have been broadcasted live for the RNE (National Spanish Radio), CatMusic (Catalunyan Classical Radio) and La 2 de TVE (Spanish Television Chanel 2). In 2007 she recorded a programme of romantic music for viola and piano for the RNE archive. During the season 2009-2010 was selected for the performing artist concert programme Clásicos en Ruta by the Performers, Artist and Musicians Spanish Asociation (A.I.E). Recently in 2011 she has been named artist of the Concordia Foundation in London.
Increasingly in demand as a recitalist, concerto soloist and chamber musician, John Paul Ekins has given performances throughout the UK and Northern Ireland, and overseas in the Czech Republic, France, Germany, Italy, Kuwait, Norway, Poland, Romania, Spain and Switzerland, and his playing has been broadcast on the BBC, on Romanian national television and radio, and on Polish television. In 2009 he graduated from the Royal College of Music (where he had been since the age of eleven, and was a prize-winner) with First Class Honours, studying with John Barstow, MBE. In the same year he was awarded the James Anthony Horne Scholarship by the Guildhall School of Music and Drama to begin postgraduate study with Charles Owen on the Artist in Performance course. He was the recipient of a Music Education Award from the Musicians Benevolent Fund, and receives generous support from The Worshipful Company of Innholders, The Concordia Foundation and The Keyboard Charitable Trust.
He has performed at a number of prestigious venues in the UK and abroad, including Bucharest's Athenaeum, Zurich's Tonhalle, Prague's Martinu Hall, Bergen's Troldhaugen, Krakow's Florianka Hall, London's Wigmore Hall, Queen Elisabeth Hall, Purcell Room, St. Martin-in-the-Fields, Fairfield Hall and Steinway Hall, Birmingham's Symphony Hall, Oxford's Holywell Music Room, Bath's Pump Room, Bristol's Colston Hall and Belfast's Ulster Hall. He has participated in masterclasses and performed with many renowned musicians and ensembles, such as Salvatore Accardo, the Brodsky String Quartet, Levon Chilingirian and the Chilingirian String Quartet, Peter Donohoe, Bernard Greenhouse, Leslie Howard, Joan Enric Lluna and Martino Tirimo. As a concerto soloist he has performed works by Mozart, Beethoven, Schumann, Grieg, Rachmaninoff, Shostakovich and Gershwin with orchestras throughout the UK.